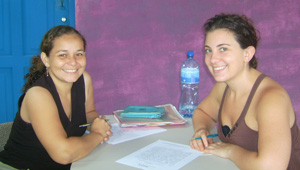 Our year-round, family friendly, exclusive Spanish programs for tourists includes private rooms and meals, exclusive spanish teachers, airport pick-up and transportation service, volunteer opportunities and more!
Schedule
Our weekly program is from Monday to Friday with 20 hours of classes during the week. Students will have classes from from 8 in the morning until noon, with a 20-minute coffee break at 10 am. However, students may opt to begin their studies any day of the week.
What's Included
– The program includes a home-stay in the school and with a local family while you are studying spanish in San Juan del Sur. Students will have one room with a private bath and three meals a day. Home-stays start each Sunday and extend through the following Sunday with scheduled departures at 9:00 am.
– Wireless internet service is available for students in our school.
– Our classes are usually one-on-one and totally in Spanish; please note that we might set small groups of 2-3 students with a teacher in our high seasons. All of our teachers and host families have several years of experience with students at every level.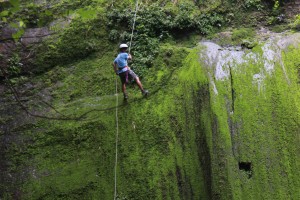 Other Activities
Three days a week, in the afternoons, students will have the option to choose from a variety of activities, including beach trips, fishing trips, volunteer activities, rappelling tours, home-cooking classes, canopy tours, dance classes, horse-back riding and more. (Activities may depend on the number and preferences of students) Other activities that require additional fees can be arranged.
Special Arrangements
Special arrangements and a variety of hotel accommodations to suit the needs of specific individuals are available upon request. We are flexible: just tell us what you want, and we will accommodate.
The school can set up a transportation service for you to be picked up on time at the airport. To do this, we will need your flight information, including airline, flight number, date and scheduled time of arrival.
We require a 50% deposit of the total program cost at least one month in advance of your scheduled visit. This deposit assures your reservation and covers the cost of initial arrangements on your home-stay arrangements, curriculum materials and other class preparations. Upon receiving your registration information, we will send you more details regarding how to submit the deposit payment. Once in the school you need to pay the balance of your payment, we accept American dollars and credit cards, as well.